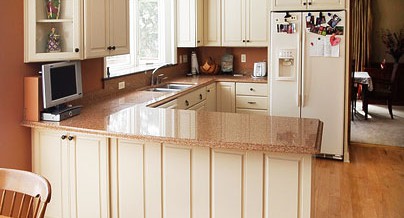 Remodeling Your Kitchen for Function and Style
Be inspired. Transform your kitchen from dull and dysfunctional to chic organizational elegance. Kitchen remodeling goes beyond the boring standard kitchen regime and embraces unique pantry solutions, bold paint colors and non-traditional appliance choices for a style that is uniquely you.
Getting Organized: Kitchen Remodeling Pantry Solutions
Traditional fridge sized pantries have gotten a facelift over the years. These days, options for effective storage seem to be virtually endless. Make planning a little easier by considering functionality first over other design goals.
Employ complex shelving units, additional appliances and even sinks in your off-the-kitchen pantry to maximize usability. Keeping wood tones consistent with those in the kitchen provides a more pulled-together look.
Additional cabinetry in the kitchen used as pantry space has been pretty common in traditional layouts over the years. Often taller cabinets are used with custom shelving to really maximize storage space.
Kitchen Remodeling Colors: Add a Pop of Your Favorite Color
One of the easiest ways to add style and personality to your kitchen is to give it a coat of paint. Painting walls traditional white brightens the room and gives the illusion of more space.
Go for bold with varying shades of your favorite hues. Designers are beginning to find ways to implement the most daring colors in understated ways. Go ahead and experiment with blues and purples or even yellows, pinks and greens. You'll be happy you did!
Achieving an understated look with royal purples and grass greens seems like it would be difficult, but the pros know best. Experts are able to achieve a perfect look by toning down bold coloring on walls with neutral woods in cabinetry and molding.
The King of Kitchen Remodeling: Large Appliances
No project is complete without the addition of sleek new appliances. The addition of sophisticated pieces can take your kitchen remodeling project from blah to something off the cover of your favorite design magazine.
Your refrigerator is one of the most important pieces in your kitchen because it's a go-to spot for the whole family. When making your selection, think form and functionality in addition to style and design theme.
Ovens and ranges are another popular design staple, as they are literally the magic-making appliance of the kitchen. The choices between types and styles are many, but know what you're getting before starting your kitchen remodeling project. Choose anything from standard free-standing options to the French inspired chest-like ranges to add polish and sophistication.
Get the Look and Function You Want
So are you ready to get started? Call Home Customizers today to get your new kitchen ready in time for the next big holiday!
Share