Home Customizers Remodeling
The Best Contractor Experience You'll Ever Have
Want a remodeling contractor you can trust, with over 34 years of experience, who strives to exceed your expectations so you'll call us back in the future and refer us to friends and neighbors?  Home Customizers Remodeling gives you the professionalism, skill and dedication you need for a successful remodeling project.
Bob Brereton, Owner / Operator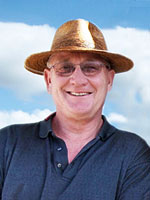 Bob Brereton founded Home Customizers Remodeling located in Saint Paul, Minnesota in 1978. The company has grown steadily from a sole proprietorship to a corporation (incorporated 1999) with office staff, full-time field supervision, a year-round (full-time) group of craftsmen, and quality, long-term subcontractors. Bob remains hands on with every customer, for every project.

About Home Customizers Remodeling Customers
We attribute our success to many things, but at the top of the list are our great customers.
We are sensitive to the details that matter to you.
We time and again find that our customers want quality work and are willing to pay a fair price for it. They want a problem solver and no one solves problems like we do.
They want respect for themselves and their home. Good communications, cleanliness and sticking with a schedule are all very important.
We have learned these things through constant customer contact, surveys, and talking with our fellow tradespeople. Home Customizers Remodeling maxim …
"We treat your house the way I want my home treated."
Home Customizers clients want to be assured that their privacy will be respected and that, when they're not home, they can rest easy that it is safe and secure.
In 2011, 65% of our business was repeat clients. Twenty eight percent was referral. Try to top that total of 93%! We must be doing something right.
Nothing says trust better than repeat and referral clients
A personal message from Bob:
"I like to tell new clients that I'm not interested in the job I'm out to bid. I then add, I'm here because I want your next five jobs!
We engage you throughout your project so that, at the end of the process, you are secure in the knowledge that you made the right choice hiring Home Customizers, Inc.
When we are on your job – we always do our best. We do not tolerate shortcuts, inferior products or anything less than our best effort."
Pride in quality workmanship is a hallmark of Home Customizers Remodeling. Every single project, no matter how small or large, has to measure up to our exacting standards.