Pella® Windows and Doors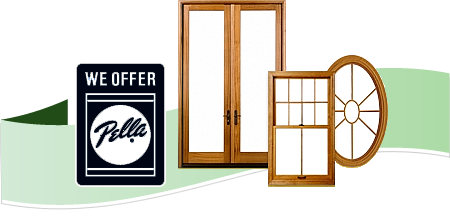 Every Style to Fit Your Budget
With over 30 years experience working with many window name brands, Home Customizers has formed a definite opinion about Pella® Windows and Doors — simply put, they are the first and the best! Pella®
continues to be an industry leader in innovative design that addresses energy efficiency, ergometric design, and many other options. Pella®'s between-the-glass options for slim shades, grids, or cloth shades are unique.
Home Customizers, along with a handful of other highly dedicated, motivated, and loyal contractors, has been tied to the Pella® select contractor program from the earliest days. We know and believe in their products.
We'd love a chance to show you the vast array of Pella® products fitting every style and budget. You will be impressed.
What is a Pella® Select Contractor?
A contractor recognized by your local distributor of Pella® Windows and Doors for integrity, an excellent reputation, and a professional attitude.
A contractor who has in-depth knowledge of Pella® Windows and Doors and has been specially trained to provide expert installation and servicing of Pella® products.
A contractor who agrees to abide by all applicable building codes and regulations and has liability insurance coverage.
A contractor who stands behind his or her installation of Pella® products.