You Expect the Best and You Should Have It
For over 30 years we have been helping people come home. Let us bring design expertise and skilled craftsmanship to your bathroom remodeling project. From classic elegance to modern minimalism, we bring your vision of a relaxing oasis to life.
Excellence in Bathroom Remodeling:
We've Got Time to Do it Right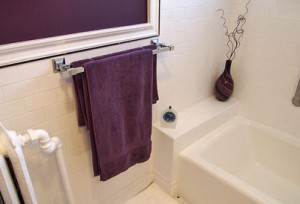 You want someone to climb right into your dream, see it as you do, and make it reality now.
We all know someone who's been remodeling their home for what seems like forever; you stop by their house and have to climb over demolition debris to take a dusty seat.
You don't have to worry about that with us. We respect your schedule and are committed to the highest standard of cleanliness while bringing your dreams to fruition.
We don't take shortcuts when it comes to your bathroom remodeling project. We work tirelessly to ensure your satisfaction down to the tiniest detail. So you can experience the serenity of your new bathroom retreat in what will feel like no time at all.
You expect the best and you should have it. Enjoy open communication throughout the life of your project and feel free to change your mind as often as you'd like. We'll be right there with you through every step of the transformation. Create the bathroom of your dreams, effortlessly!
Bathroom Remodeling Etiquette:
We Maintain Flexibility in Everything but Your Budget
You want beauty, peace and spa-like comfort, and you want it all in budget. You don't want to have to worry about carnivorous black mold growing under your old claw foot tub, or busted pipes teeming with bacteria and sewage effectively gouging the life out of your budget. Lucky for you, you don't have to.
Our experts are meticulous in every aspect of the estimate and evaluation. We have worked with thousands of clients with diverse needs and we know exactly what red flags might indicate trouble before we start on any remodel. So forget all the renovation nightmares you've heard about in the past. Our plans have plans so that through every step of the bathroom remodeling process, we've got you covered, guaranteed.
Share