Relax in style and comfort with these handy ideas for a clutter-free, functional basement finish.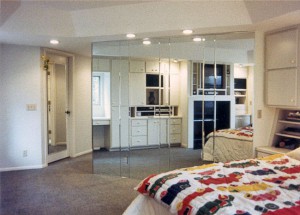 Basements are often the most underused portion of any home, and without proper organization, basement clutter can build up fast.
You can create the perfect balance between kid-friendly and adult-themed play areas with a bit of inspiration.
Here are some ideas …
Finishing a Basement Hideaway for Kids or Grandkids
Consider building a pint-sized play space beneath your stair case. Kids love this little hideout, which is life-sized to them, and it's perfect for containing an overflowing toy supply.
Embellish a wall with chalkboard paint, hang beads or a curtain across the entrance of the "fort", and add recessed lighting for safety. Custom wood toy bins and shelves built to fit the shape and size of the area double as excellent storage when the kids outgrow their toys.
Finishing a Basement Utility Room
The furnace / utility area is generally left unfinished. But ask Home Customizers to make sure this area is up to code for the safety of your family. We can conceal those unattractive mechanical parts and systems with a "hidden" door that acts as a functional and attractive bookcase or shelving unit from the outside.
Inside, consider painting and sealing the concrete floor or laying tile. Build sturdy, just-right shelving to fit the space and your storage needs, and add peg board for hanging tools, cleaning equipment, holiday accessories and more.
Get Creative With Niche Spaces
When you've got one wide open floor plan, but need to utilize it for various functions, niche spaces can help you achieve your most elaborate design goals.
Separate your treadmills and free weights from the lounge area with a custom built fitness center. You can bring the gym home by paying special attention to lighting and flooring, adding a wide-width closet with mirrored doors or hanging wall mirrors where appropriate, and having custom storage space built for all of your equipment needs.
Mount a TV on the wall, add a tiny break area with mini-frig, small sink, cupboard and counter top, and a surround-sound speaker system.
Home Customizers can assist you with planning and design in addition to finishing a basement your family will love spending a lot of time in.
Share