Realize your dream of family and good food in the comforting ambiance of your gourmet kitchen remodel. If you are overwhelmed by the details, enlist the help of Home Customizers to help bring your culinary imaginings to life.
Don't Put Your Kitchen Remodel Off a Day Longer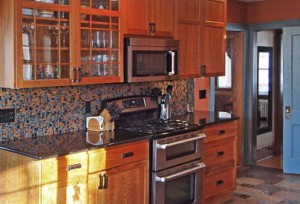 So you want to remodel your kitchen? Get on the path to kitchen destiny by hiring a qualified contractor. Our fully licensed and insured pros have been in the business of helping people come home for over 30 years.
Get design ideas and proof of excellence in craftsmanship by reviewing an extensive portfolio of our previous projects. Here you can be inspired to create something unique for your family's needs.
We want to bring you the highest quality materials and labor for the best possible price. A thorough bid is always presented with measurements and other details collected during your consultation. Should you choose us, a contract is constructed to ensure your highest satisfaction at all times.
Cook Up a Fabulous Design in Time for the Holidays
Do you dream of traditional kitchens with hardwood floors, marble countertops and exposed brick back splash? Cozy Center islands are the perfect gathering place for family and friends.
Maybe you prefer a more modern theme with finishes of stainless steel, leather and chic Lucite with glass tile back splash. Whatever you fancy, we'll help put everything in place just in time for the holiday season.
Add Flair to functionality with pops of color. Be bold with accents in unexpected places like oven knobs, kitchen faucets, sinks and trash cans. There is almost no limit to what we can do to bring your kitchen theme to life.
Our Commitment to Excellence
We won't bore you with a million details or a stuffy mission statement. We know you want the best quality work and you want it done on schedule and in budget. We can deliver that for you.
Our team is standing by to infuse warmth and illumination into your home this holiday season. You can expect nothing short of perfection when you choose us to complete your kitchen remodel. So what are you waiting for? Call or click for a consult today!
Share