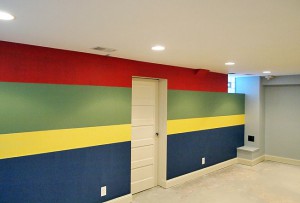 Has your basement become a gloomy catchment area for cast-off household items and an ever-growing mountain of toys and clutter?
Banish the junk and transform your space to an area fit for everyday entertaining with these basement remodeling tips.
Basement Remodeling with Fun and Happy in Mind
Nothing says happiness quite like bright colors and spaces. Open up dank dark places with natural light, light colored flooring and white paint as a backdrop.
If you're low on natural light, consider the use of electric lighting elements and mirrors to get a similar effect.
Add strategically placed punches of color to give joy and energy to your space. Don't be afraid to experiment with rugs and furniture in bold colored tones.
Use light colored wood finishes for storage solutions and courageously display your 6 year old's art work to add fun family elements to the space.
Basement Remodeling with Calm and Serene in Mind
After a long day, relaxing in a space for grown-ups only is just what the doctor ordered. Let natural light come in as much as possible to bring peace to your senses.
Stick with neutrally colored floors and storage solutions and add a dose of tranquility with a gentle blue or gray wall color framed in white moldings to add elegance.
Neutral furnishings and floor coverings contribute to peaceful surroundings. For added sophistication, use botanical photos or pictures of other serene outdoor structures as wall art. Consider a fireplace and maybe even a custom built bar or wine cellar for the ultimate adults-only relaxation space.
Include Storage in Your Basement Remodeling Design
If your basement is already full of stuff, where is it going to hide after you've created real living space? Custom built-ins like shelving, cabinetry and closets are a necessity for keeping the clutter at bay.
Columns and doors can become bookcases, and a wall can be crafted into a gorgeous entertainment center. A small corner of the basement can be transformed into a cleverly organized and enclosed storage room.
Home Customizers will help you design and build out a basement remodeling project you and your family will benefit from long into the future.
Share