It's about time you got going on that bathroom remodel you've had scheduled since forever. Add a little luxury to still the chaos of your life. Ditch the DIY and hire a professional – Home Customizers – so you can relax and get work done simultaneously.
Pamper Yourself with Style: Tile Flooring Solutions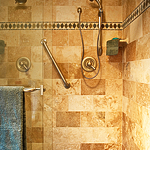 The 1970's called and it wants its ugly linoleum back. The right foundation is essential to inviting spa-like luxury into your home. These tips, implemented by a pro, can transform your bathroom floors from bland and boring to bold and beautiful in just a few short hours.
A tile is not just a tile. There are tons of different types to choose from when doing a bathroom remodel. Consider carefully the type of tile you install, as each has unique benefits and drawbacks.
Ceramic tile is classy and conventional. It has a low water absorption rate, making it ideal for your bathroom space. Natural stone tile can add a touch of elegance or serenity to your space. Choose stone when you don't mind a little bit of extra upkeep in exchange for a less-traditional look.
Melt Away Stress: Bathtub and Shower Solutions
That dingy yellow caulking surrounding your tub is definitely not a style statement. Before opting for possible DIY disaster, consider alternate solutions for a bathroom remodel that considers relaxation a priority.
Banish your old bathtub and let Home Customizers gift you with peace from the heavens. Adding waterfalls and rainfall showerheads or free-standing whirlpool and soaker tubs can add a note of tranquility to any bathroom space.
You can get all the privacy you need, and simultaneously bring a bit of the outside in with glass enclosed shower structures. Dare to dream and your mini-vacation will always be just a few feet away in your professionally designed bath.
Functional Bathroom Art: Custom Vanity and Cabinetry Solutions
Nothing says pack rat quite like loads of health and beauty products battling for space on your bathroom counter. Not to mention all the styling tools hanging perilously close to your tub and toilets' open waters. Get organized and inject style into the space with custom vanity solutions.
One of the best ways to implement theme is via your bathroom's storage and cabinetry. Let your imagination run free as you consider unconventional solutions to bathroom organization.
Choose durable antique furniture repurposed as a vanity to add class and sophistication. For a more modern approach, floating vanities conceal your bathroom wares with sleek finishing touches. Any sturdy piece can be repurposed for custom storage. The sky is really the limit here.
Putting Your Bathroom Remodel Together
Spa quality luxury is just within reach when you consider Home Customizers bathroom remodel services. Call for your design consultation today.
Share