It's Porch Building Season in the Twin Cities!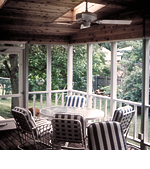 Porch designs by Home Customizers are known throughout St. Paul and Minneapolis as one of the most cost effective, functional and high quality home improvement projects we provide.
A porch will not only add value to your home, but is a natural extension of your living space. Porches become attractive, practical space that you can use for entertaining or just relaxing and enjoying the outdoors.
It becomes a favorite spot in the home to regularly spend time as a couple, gather as a family, host a houseful of guests or savor a few moments alone.
Porch designs of the highest quality

Home Customizers porch designs ensure that your porch is a unified part of your home. Your Porch will look as though it was built with your home, instead of as an afterthought.
You will be pleased with the quality and appearance of your porch, because it has to measure up to our high standards. We treat your porch project as if it was our own. We rely on your satisfaction, not just with your porch, but with your experience working with us, to maintain our reputation and an over 80% referral rate with new customers.
Our porch designs are carefully planned to meet your needs and personal specifications. Your well-built porch will also be functional, attractive and constructed with quality materials to look great and last for years to come.
Home Customizers Remodeling boasts over 30 years of building and remodeling experience. We are a contractor you can trust to exceed your expectations so that you will call on us for all of your remodeling needs and refer your friends and neighbors.
If you're considering porch design in the St. Paul / Minneapolis area, think about all of the ways you will use it, depending on the season, and with whom. Whether it's a front porch, back porch, screened porch or sun room – our porch designs are customized for the highest quality, usability and aesthetics.

Share