A Patio is an Outdoor Retreat
Patios are a great option if you desire an outdoor retreat and a place to entertain friends and family. Patio designs can be easily customized for beauty and functionality.
A patio can be the perfect place to hold parties and get-togethers. Set up your grill, create an outdoor kitchen or enjoy a portable outdoor fireplace.
If you have a pool or children, patios help keep water and dirt from entering your home. They provide a solid, level exit outdoors so you're not walking into mud or a sloped area of your yard.
Effective patio designs can make a yard more usable if it is uneven, on a steep hill or if the lawn isn't the most pleasant on bare feet. Sometimes the back yard needs something special to pull it all together. A patio can be the focal point of your backyard and achieve a whole new look for your home.
Decks and patios compliment each other to provide an enjoyable outdoor living environment and added space. Be sure to browse our project gallery for ideas on decks, patios, porches and pergolas – all of which are excellent exterior home improvement projects.
Pella® patio doors and sliders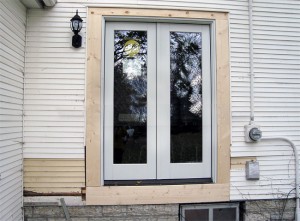 As a Pella® Select Contractor for many years, we recommend Pella® patio doors. There are many features and styles available to fit your price range.
Choose maintenance-free vinyl frames or quality wood crafted frames; experience exceptional energy efficiency; and match the style of your home with decorative panels or grilles.
Home Customizers is Installation Masters Certified. We expertly install a vast selection of Pella® Windows and Doors. Learn more about Pella®.
A patio is an inexpensive option to create beauty, function and value. We excel at the attention to detail and expertise required to help you choose the best look, material, size, shape and location.
We will help you plan the best patio design for your home and your lifestyle. Home Customizers Remodeling is grateful for our loyal customers and we look forward to ensuring that you are one of them.
Decks and Patios Slideshow

Share