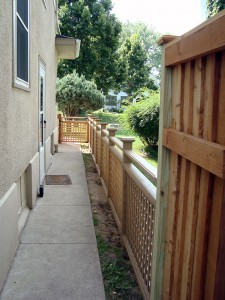 There are so many options when it comes to fence design that it can get overwhelming. The two main considerations are style and function.

Privacy Fence Design
Keep others from seeing in – and keep some of the noise out. Privacy fences are an excellent choice for homes on or near busy roads or businesses.
A private, secluded back yard is a comfortable option for pool owners, sunbathers and even families with young children.
Privacy fences offer a measure of security, safety and a more intimate setting. They are a nice feature to build around a deck or patio for entertaining or simply for your own solitude.
Picket Fence Design
How many young woman have dreamed of a white picket fence? They are a classic choice and typically come in wood or vinyl. And they don't have to be white!
Picket fences add beauty and charm. They also provide a safe area to roam for pets and children. Height and style are important decisions we can help you make.
Post and Rail Fence Design
Depending on your needs, the simple open design of these types of fences might be the rustic look you seek. Rail fencing serves well in keeping large animals in and can be modified with a mesh material to keep small animals in as well.
Rail fences are often used to establish property lines or boundaries.
Swimming Pool Fence Design
Swimming pool fencing must often meet local building codes and safety regulations. Their main purpose is to maximize safety for pets, children and those living in the surrounding neighborhood.
Pool fences can also provide privacy and some noise reduction. Building a pool deck, surrounded by a fence like this, adds more function and style to your outdoor living space.
Home Customizers has over 30 years experience building fences, pergolas, arbors, gazebos, patios, decks and porches in Saint Paul / Minneapolis communities.
Contact us for a free estimate and consultation. We will listen to your needs, share options and recommendations and help you stay within budget to build a beautiful, functional fence.
Porches, Fences, Pergolas Gallery

Share